LIGHT AND ELEGANT
The Travelling-Desk® is a patented, new invention: an attaché case and a writing desk, in one! It is light and elegant, lighter than an equivalent leather bag, but can carry a lot: your pens, papers and books of course, but even your laptop or new iPad; your toothbrush, a water-bottle, a chocolate bar, your perfume – all your favourite things. On the right day you can add your pajamas! It is indeed also an overnight case.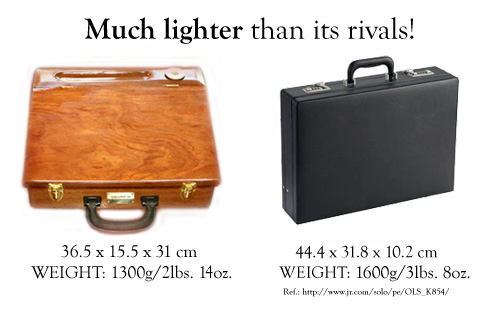 SAVES HOURS OF DEAD TIME
But the great, great thing about this briefcase is that you can write on it, wherever you are! Waiting for the train or the plane, or on the move, in the bus or the car, or on a park bench, or in bed! So it saves you hours of dead time. Armed with pencil and paper and a desk, you can work, you can play, you can think, you can fight boredom, that "delicate monster". Whatever the hurly-burly around you, you can retreat to a safe and familiar place – a place of words, of thoughts – an intelligent place.
FOR ALL WALKS OF LIFE
The Travelling-Desk® is a great working tool for many professions. If you are a doctor, a lawyer, an engineer, a teacher, a writer, a poet, a travelling salesperson, it is a most practical brief case. It is in effect a travelling office. Hence it makes a nice gift for a professional person.
CHILDREN LOVE IT TOO
They can keep their books and paints and pencils under control, travel with them, from room to room, or to another house. It is their little house. It reminds them, and all of us, of happy school days. And it is great to keep them busy in the back of the car. They can read, draw, colour…
TWO SHADES
The box is made of ash wood ply and comes in a dark or light shade. It is covered inside and underneath with green felt. It comes with a packing cushion to hold your objects down when moving. We have improved the paint, to make it scratch-proof and water-proof.

WITH A CANVAS BAG
We also give you, free with your order, a waterproof, canvas bag that covers the briefcase. This comes in black or green. It will protect your desk when travelling rough, for example on a bike, or when stored, or when you do not want the desk to draw attention. It also allows you to carry the desk hands-free, as a backpack, and adds extra space for a few more things (a light raincoat, a magazine, etc.).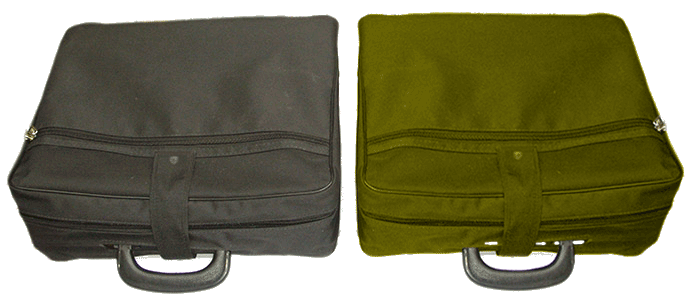 If you are really stylish, you can go for our chic, black leather case for a supplement of 75€.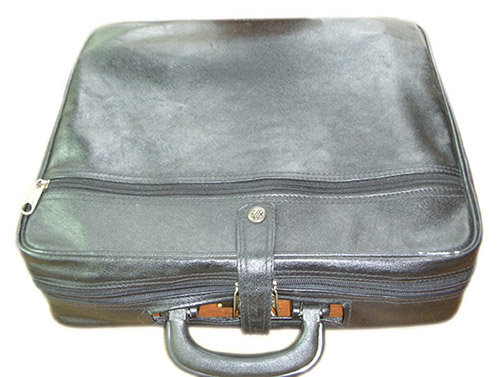 STURDY AND CAPACIOUS
It is light but sturdy and will last you a lifetime. And you will be surprised how much you can carry in it. The handle is good to lift 30 kg (66 lbs.). The only breakable part of the box is the white, porcelain inkwell. Breakable, but so pretty! So we will send you an extra inkwell with your box, just in case.
EQUITABLE AND ECOLOGICAL
The desk is made in India by skilled craftsmen, in the workshop of a cousin of mine. They are minor Lucknow royalty, modernising themselves and joining in the world market. The carpenters are highly skilled craftsmen, with a long tradition. They are well-paid, at least 25% of the price. They work in clean, hygienic conditions. No child labour is ever used. The ingredients are mostly wood, nails, glue and paint. The Travelling-Desk® is a low-tech, long-lasting, ever-useful instrument. It is the opposite of throw-away consumption. It will be your daily and life-long companion.
A PERSONALISED GIFT
For a supplement, we will personalise your box, with your name engraved on a lacquered, brass plate, and screwed down on the front of the box. This personalisation renders The Travelling-Desk® an especially fine gift.
A STATEMENT OF STYLE
Altogether, the The Travelling-Desk® makes a nice statement: it speaks of an unhurried, nature-friendly, thoughtful man or woman.


MONEY BACK GUARANTEE
If you are not satisfied with your Travelling-Desk®, we will give you a full refund (100 euros), but not the shipping cost (75 euros), if you return the box in 7 days. Please contact us before posting back. We may have a local address for you to return the parcel, thereby reducing the postage cost for you.

Harbans Singh
The happy inventor of The Travelling-Desk®.



---
Order your desk here and now!

You can pay by any major credit card or your PayPal account. Choose one of these four options to order your box with or without personalisation, with a black or green canvas bag, or with a chic black leather bag.





Now delivered to your doorstep in approximately two weeks in Europe, three weeks rest of the world; please add one week if you have ordered with a personalised plate.
Be a Partner!

Do you like our idea? Do you believe in this little desk? Do you like wood, ink, writing, reading, letters, sustainable development, ecology, happy school days – all the things we stand for? Then be a Travelling-Desk® Partner. Find us retail outlets, group orders, other customers… Help spread the word to your local shops, schools, companies. We can deliver 5 to 50 boxes anywhere in the world. Write to us or phone me:
Harbans Singh +33 147 075 528.
Write us an e-mail.